8:00PM
(Doors:

7:00PM

)
$25.00
Ages 21 and Up
This show is at Belly Up
143 S. Cedros Ave, Solana Beach, CA
Ticket Price: $25 advanced / $28 day of show / $44 reserved loft seating (available over the phone 858-481-8140 or in person at our box office) (seating chart / virtual venue tour)
Not on the e-mail list for venue presales? Sign up to be a Belly Up VIP and you will never miss a chance to grab tickets before they go on sale to the general public again!
There are no refunds or exchanges on tickets once purchased.
All times and supporting acts are subject to change.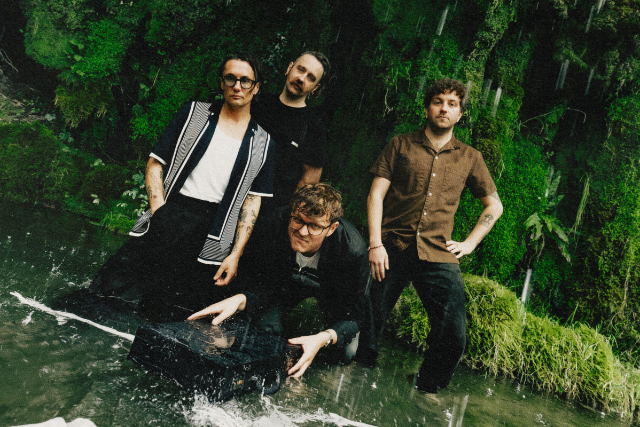 Yard Act
What do you do when everything you've ever wanted suddenly lands in your lap, but the questions still keep on coming?
Having steered their golden Rover into swift public acclaim back in 2020, Leeds quartet Yard Act have become one of the great indie success stories of the decade so far. Debut album 'The Overload' went straight in at Number Two, narrowly missing out on the top spot after a hard - and hilariously - fought chart 'battle'. Since then, the band - vocalist James Smith, bassist Ryan Needham, guitarist Sam Shjipstone and drummer Jay Russell - have spent the past two years traversing the globe, playing festivals from Tokyo to Texas and racking up career milestones on a near-weekly basis.
At the start of 2022, Yard Act landed in the BBC's Sound of… shortlist and, six months later, 'The Overload' was nominated for the Mercury Prize. They've graced the cover of the NME, DIY and more, made their American network television debut via 'Jimmy Fallon' and sold out tour after tour along the way; BBC 6Music legend Steve Lamacq named the record his Album of 2022, and, in July of that year, Elton John hopped on board to guest on a string-laden reworking of album closer '100% Endurance'.
After years of playing in much lesser-known bands, it was more than James could ever have dreamed of. But as the year went on, it started to become evident that even a trajectory as winning as theirs was no quick fix solution for life as a whole. "I'd been looking to fill a void and I was convinced from the age of 15 that this would fill it," he says. "But it just opened another ten page survey to fill out rather than ticking a box and closing the 'What Is Life?' page."
Just as Yard Act had begun their rapid uphill ascent, Smith and his wife had welcomed in a son, and it's this duelling sense of responsibility and ambition, guilt, love, drive and everything in between that forms the narrative backbone of brilliantly exploratory second album 'Where's My Utopia'. "It's basically like The Bible 2," jokes Ryan.
Sonically, it represents a giant leap forward from 'The Overload'. Sprinkled with strings, choirs, and voice-acting clips ℅ some of the comedian pals that supported the band on their five-night Brudenell Social Club residency (Nish Kumar, Rose Matafeo and more), most importantly 'Where's My Utopia?' is bursting with its own breadth of ideas. There are nods to reference points ranging from Fela Kuti ('Blackpool Illuminations') to EPMD and Ultramagnetic MCs ('Down By The Stream'); Lauryn Hill via Ennio Morricone ('An Illusion') and Spiller's '00s pop smash 'Groovejet' ('Dream Job'). If their debut saw them dubbed primarily a post-punk outfit, its follow-up could never be accused of the same.
"The main reason that 'post-punk' was the vehicle for Album One was because it was really affordable to do and affordable to tour on a minimal set up, even down to me not playing guitar to save space in the car, which is when the words really came to the fore. But we always liked so much other music. I think 'The Overload' hints at that, but this time we've had the confidence to embrace it," James explains. For their newest, the band were also able to bring in Remi Kabaka Jr of Gorillaz to aid on production duties. "He's got an encyclopaedic knowledge of so much music," says Ryan, "and he really encouraged us to embrace the broader sides of our tastes."
Written in stolen snapshots of time between their relentless touring schedule, that Yard Act describe the process of physically piecing together 'Where's My Utopia?' as "a really joyous" thing stands as testament not only to the brotherly bonds that have strengthened between them over the past few years, but also to the playful nature of the record itself. Where 'The Overload' was written by James and Ryan in their relative pandemic-locked spare rooms, its follow-up was a communal four-way effort built on chemistry, familiarity and the trust to challenge and push each other creatively. "Musically it still pretty much always starts with us trying to make each other laugh," grins James towards Ryan. "You doing those dolphin calls for the 'Fizzy Fish' hook in Jay's attic, or 'Down By The Stream' had us squeezing your dog down the microphone…" "He growls all the time FYI," Ryan notes. "I didn't torture a dog."
A completely open process buoyed by the confidence that had come from the reaction to 'The Overload', that spirit also allowed James to reach into a deeper lyrical space than ever before. Throughout the band's second act, the frontman largely eschews the outward-facing character studies of yore in favour of a new collection that stares fully into the headlights of life, wrangling with his own fears and foibles to create a sort of Promethean narrative - but with jokes.
From the knowing and defeatist prologue of 'An Illusion' to 'We Make Hits'' swaggering testament to the sheer unadulterated buzz of creating ("It's a love letter to Ryan and the euphoria I feel when we make music together," James notes), 'Where's My Utopia?' throws back to the beginnings of Yard Act's story before hitting choppier waters. On 'The Undertow', James addresses the emotional toil of leaving your family at home to follow your dreams, repeatedly questioning "What's the guilt worth?" over swirling, submersive strings; then, the wryly upbeat 'Dream Job' lands like The Blockheads doing 'Club Tropicana' - a not-entirely-believable thumbs up from the trenches.
The album's second half simultaneously contains some of Yard Act's most grimly real and fantastically optimistic narratives yet. On one hand, the baggy, bass-led shuffle of 'Petroleum' was written after a particular tour nadir. "I lost it with the crowd in Bognor Regis and told them I was bored and I didn't want to be there," James recalls. "Me and Ryan had a row after, and Ryan rightly dressed me down for the way I acted. It got me pondering the idea that, now this is a job, what are the requirements of it? People think they want honesty but they don't, they want me to portray the version of honesty that they've paid to see and that's part of the illusion."
Then there's the closing one-two of 'Blackpool Illuminations' - a tender, cross-generational spoken word story about the subjective nature of memory and what we hold dear - and the final 'A Vineyard For The North'. Much like '100% Endurance' closed 'The Overload' with a feeling of hope in something bigger, 'Vineyard…' looks around us and tries to find glimmers of positivity within something closer to home. "I read that French vineyards had started buying up land in the south of England because of climate change, and that's quite a terrifying thing," James notes, "but then there's the idea that new things will grow in the soil that couldn't grow before, and there are unknowns and we'll adapt because we're an adaptable species. Uncertainty is the best hope we have now. But our lives were never set in stone, and no creature in the history of existence's future has ever been guaranteed. I have to hope. For me, and for my son."
Change and adaptation, in fact, lies at the heart of 'Where's My Utopia?'. If Yard Act thought that the answer to the question lay merely in objective success, then yeah, they've achieved that, but they're also still no closer to solving the real riddle. What's helped is the rock-solid bond between the four of them and their insatiable urge to keep creating something new, to keep making themselves laugh, to keep giving it a go.
"In 200 years time, no-one will know what Yard Act is and what 'Where's My Utopia?' was, but I read in Rick Rubin's book 'The Creative Act: A Way of Being' that making things is a service to the universe, to explore and give and just put it out there," James nods. "You can commit to the idea that we're just animals who eat and fuck and then we die, and that's fine. But for whatever reason, we've obviously tapped into this emotional web that exists above it all. And for me creativity always seems to be the best way of articulating the absolute minefield of what human existence is."
Ticket Price: $25 advanced / $28 day of show / $44 reserved loft seating (available over the phone 858-481-8140 or in person at our box office) (seating chart / virtual venue tour)
Not on the e-mail list for venue presales? Sign up to be a Belly Up VIP and you will never miss a chance to grab tickets before they go on sale to the general public again!
There are no refunds or exchanges on tickets once purchased.
All times and supporting acts are subject to change.